Sale!
Uniiq Kombucha – Passion Fruit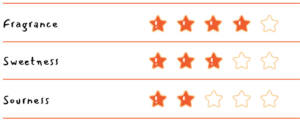 Pleasantly tangy with a hint of sweetness, the fragrant aroma brings intensely tropical and exotic flair till your last slurp.
Ingredients
Filtered water, live kombucha culture, organic cane sugar, fibersol 2, passion fruit syrup, black tea.
*The sugar used is consumed by the living kombucha culture during fermentation.
Health Benefit
Helps to increase intestinal bifidobacteria and maintain a good intestinal environment.
Gentle Reminders
• Can be kept at ambient temperature, best served chilled.
• Keep in refrigerator and consume within 3 days after opening.
Caution
• Not recommended if you are pregnant or breast-feeding. Any concerns should be discussed with your healthcare professional.
• Product contains natural sediment from tea.
• Do not shake.

Description
Contains fermented tea, 4,500mg Prebiotics, organic and natural ingredients. Taste sparkling and best drink chilled.